Leviton Dimmer Switch
00252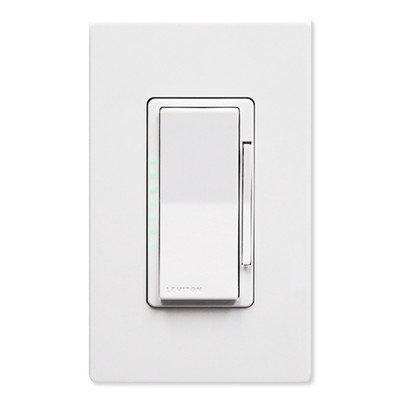 Leviton Decora Smart Z-Wave Plus Dimmer Wall Switch, 600W
The Decora Smart with Z-Wave Plus Technology Universal Dimmer uses the latest generation of Leviton's dimming technology. The switch supports dimmable incandescent lights up to 600W and LED/CFL lights up to 300W. It can be used in a 3-way, multi-way circuit using remote dimmer DD00R-DL (sold separately). Its design allows it to be used with low-wattage lights such as LED bulbs or holiday lights, ensuring LEDs do not glow when they're off. This dimmer is not only compatible with certified Z-Wave controllers, security systems, gateways, and hubs, but also Wink, SmartThings, and Amazon Echo (requires Wink or SmartThings hub).
Control your lights locally with the switch, or pick up your Z-Wave remote or smartphone to remotely control individual lights or entire scenes. For manual use, simply press the top of the dimmer to turn it on and the bottom to turn it off. The switch brightens and dims your connected lights when you press and hold the appropriate side of the dim/brighten bar. Built-in LEDs help you locate the switch in the dark and indicates the current brightness level.
Smooth, Decora-style rocker switch for local and remote dimming control
Soft fade on/off
Compatible with Leviton Vizia RF+ systems
Multi-location (3-way) dimming is achieved using up to 4 remote units, DD00R-DL (sold separately)
Vanishing LEDs on the left side of the paddle indicate current light levels
Z-Wave Plus Certified

Increased communication range
Network wide inclusion
Over The Air updates
Support for beaming and secure commands

White and Light Almond paddle faces included
Manufacturer Part #: DZ6HD-1BZ
Load Rating:

Incandescent: 600W – 120VAC, 60Hz
LED/CFL: 300W – 120VAC, 60Hz

Approvals: Complies with UL 1472; FCC Listing Part 15 and Part 18; Z-Wave Plus Certified
UL required air gap switch disconnects power from load locally. It is concealed during normal operation and is accessible without moving the wallplate.
Warranty: 5 Year Limited
Get it installed!
Installation (49)