Leviton Appliance Outlet
00259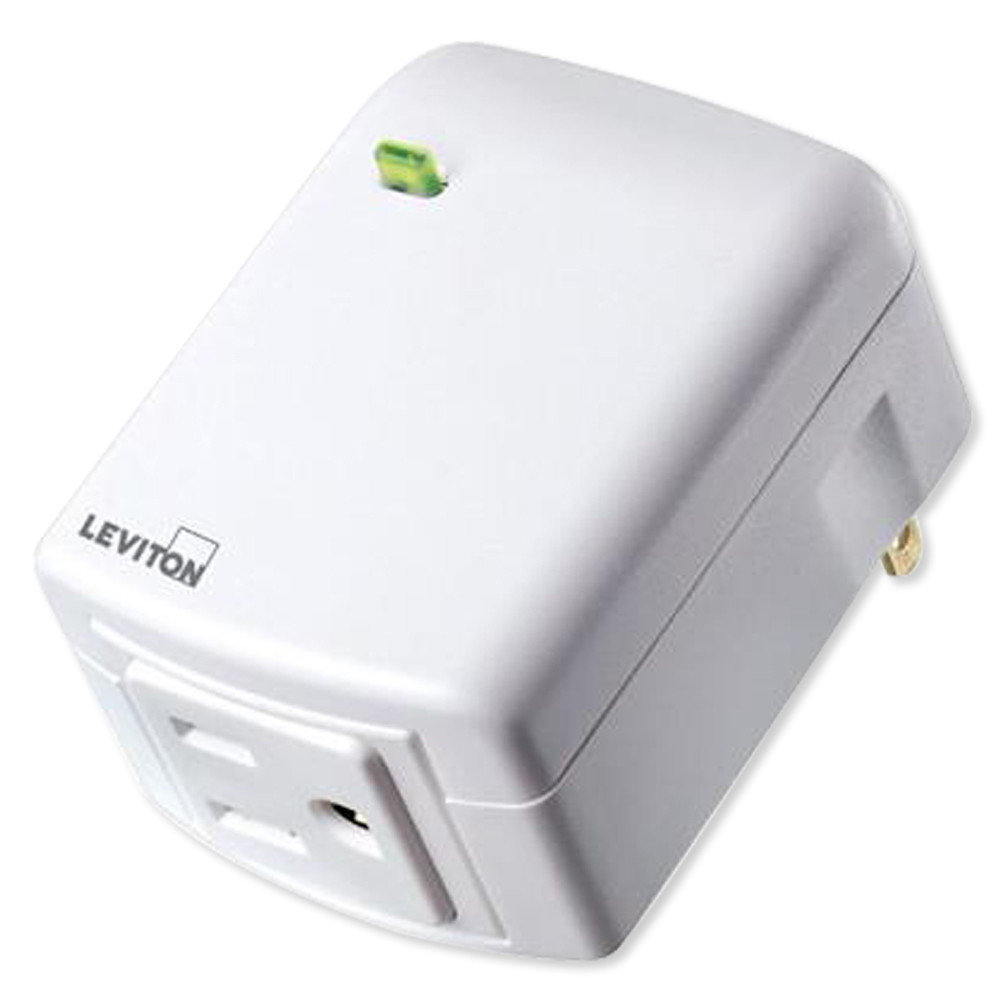 Leviton Decora Smart Z-Wave Plug-In Appliance Module
Add Z-Wave remote control to fluorescent lamps, kitchen appliances, portable fans, and other home devices with the Leviton Z-Wave Plus Plug-In Appliance Module. Simply plug your device into the module, and plug the module into a power outlet. Once the module is enrolled into your Z-Wave network, you can use a wireless Z-Wave controller to turn On/Off the connected devices.
Responds to On/Off Z-Wave commands, motor loads upt 1/2 HP, and lights up to 1800W, including LED, incandescent, inductive voltage, fluorescent, and compact fluorescent loads
Can be included in scenes or zones
Remembers status during power outage
Provides two-way status updates
Compatible with the Samsung SmartThings Automation Hub
Z-Wave Plus Certified

Increased communication range
Network wide inclusion
Over The Air updates
Support for beaming and secure commands
The Plug-In Appliance Module supports CFL and LED loads up to 600W; plus, incandescent, halogen, and fluorescent up to 1800W. It also allows you to incorporate the connected device into scene or zone control applications. The button on the front of the module is used to easily include/exclude the device in a Z-Wave network. In case of power malfunctions, the Module remembers On/Off status of plugged-in devices.
Notes: Must be enrolled into a Z-Wave network controller (sold separately).
Manufacturer Part #: DZPA1-2BW
Ratings:

Incandescent: 1800W – 120VAC, 60 Hz
LED/CFL: 5A – 120VAC, 60Hz
Fluorescent: 1800W – 120VAC, 60 Hz
Resistive: 15A – 120VAC, 60Hz
Motor: 1/2 HP – 120VAC, 60Hz

Agency Standing and Compliance:

Complies with FCC Part 15, Class B
UL Listed (E66800)
NOM Certified (#057)
CSA Certified (File #152105)
UL Listed (File #898F)
Z-Wave Certified

Installation Considerations: Designed for residential applications of up to 7,500 sq. ft.
Warranty: 5 Year Limited
Get it installed
Installation (49)